Mayor Li Zhiyong to the forefront of production supervision and inspection of production safety work
Classification:Company dynamics Author: Source: Release time:2015-09-22
In August 17th, accompanied by mayor Li Zhiyong, deputy mayor Feng Lei, Mi Rongjie comrades in charge of Safety Supervision Bureau, traffic bureau and other departments, to our company production line production safety supervision and inspection work.Our general manager first extended a warm welcome to Mayor Li Zhiyong, Vice Mayor Feng Lei, Mi Rongjie and other leaders for their investigation and guidance of the company's production line work, and expressed heartfelt thanks to the safety supervision department of Xinle Huabao Plastic Film Co., Ltd. for their care and support for the company over the years.
Li Zhiyong to our company to do an in-depth view of the field, by asking, check the information, etc, of enterprise production safety work plan and implementation, hidden investigation and rectification of supervision and inspection.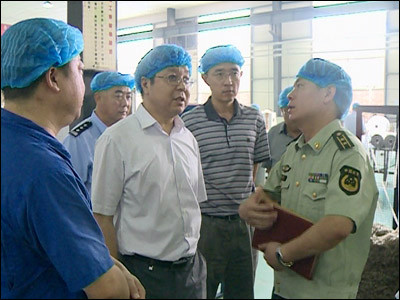 Li Zhiyong requirements: to make clear the main responsibility for production safety, carry out safety inspections, the establishment of hidden investigation files, clear rectification time, effectively eliminate. To increase the safety of employees training and education, strict implementation of the safety measures to ensure safety in place, management system in place, security personnel in place. The regulatory authorities should effectively increase production safety supervision, to the first line of inspection, to implement the safety production system, to implement safety production line. On production safety hazards investigation, to do accounting, a time limit for rectification, rectification measures, rectification feedback, prevent production safety inspection procedures, as a mere formality, not implemented. To further increase the production safety inspection, strict control, do not stay dead, leaving no blind spots, and effectively improve the security level of safe production in our city.
Vice mayor Feng Lei, Mi Rongjie, respectively, do a good job on the work of production safety.
---
Post time: Apr-19-2022